'Emilio Aguinaldo' gets check as Duterte gives back excess campaign funds
Presumptive president and Davao City mayor Rodrigo Duterte sent back checks of his excess campaign funds to his donors, a move uncommon to politicians.
It seems that Duterte is walking the talk of being a pro-poor politician as he is giving back the donations sent to him as support for his campaign in the recent presidential elections. In a photo posted by Marion Raagas, a member of Duterte's presidential campaign team, checks are lined up waiting to be signed.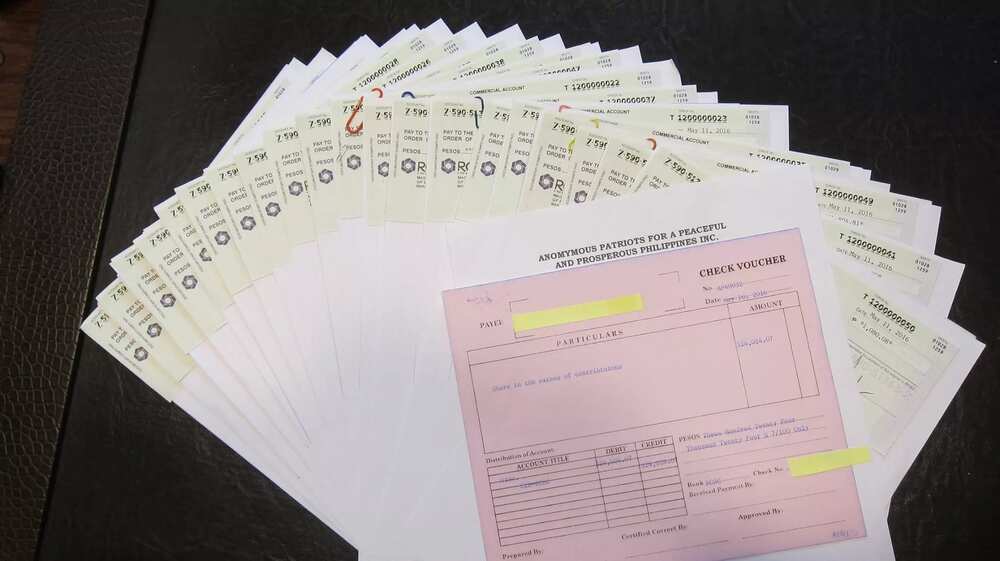 "What greeted me this morning as I walk into my office was a bunch of checks that I need to sign. These checks represent the pro-rated amounts of excess campaign fund contributions for Duterte campaign team (coursed thru Anonymous Patriots)," he wrote in his post.
"I suppose this is the first time in our country's history that excess campaign funds are voluntarily returned to generous campaign contributors. Normally, traditional politicians just pocket the difference or perhaps fund handlers just 'split the loot' amongst themselves," he added.
It seemed that a certain "Emilio Aguinaldo" will get a partial refund. During the final debate sanctioned by the Commission on Elections and hosted by ABS-CBN, Duterte was asked by host Karen Davila to name his top campaign donor.
Duterte answered, ''nasa bukid, ma'am." However, when pressed for a name, he said ''Emilio Aguinaldo."
Later, Duterte spokesperson Peter Laviña explained that the "Emilio Aguinaldo" mentioned by the Davao City mayor represents the many poor Filipinos, such as farmers, who have contributed small amounts to the Duterte campaign.
Duterte continues to prove that he is different from traditional politicians that took office. Reports claimed that he wants to sell the Presidential yacht deemed unusable as well as not living in Malacañang and transferring the center of power in Davao.
Source: KAMI.com.gh