Russell Westbrook, or Beastbrook, as his friends call him, is an American professional basketball player. As far as the top NBA players are concerned, Russell is one of them. Russell has established himself as one of the most hardworking players in the NBA. Although he has been successful as a player, he has also been criticized for failing to adapt. Some situations may call for him to change his style of play, but then again, his refusing to change is what has made him the star he is.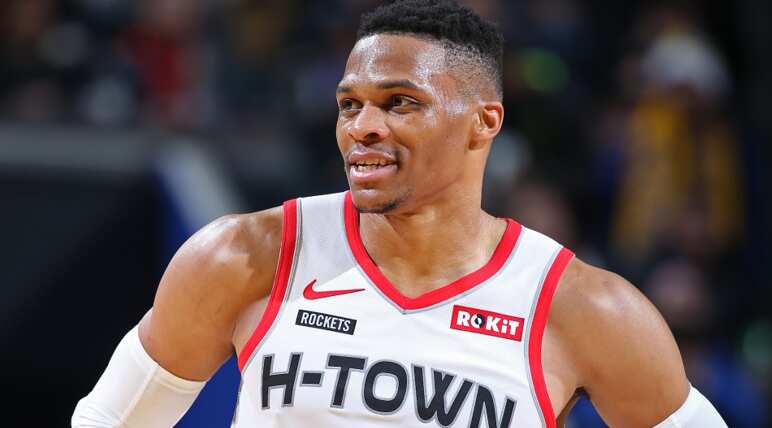 There is no denying that Russell Westbrook is a very talented player, but he also has his demons. For starters, he has fallen out with many people because of his "why not?" attitude. He seems to hold the view that changing how he plays will change who he is. On the other hand, his loyalty and dedication cannot be questioned, seeing how he has built a franchise identity from nothing.
Russell Westbrook profile summary
Name: Russell Westbrook III
Nickname: The Brodie, Russ, Beastbrook
Birthday: November 12, 1988
Birthplace: Long Beach, California, USA
Education: Leuzinger High School, University of California
Star Sign: Scorpio
Spouse: Nina Earl
Children: Noah Russell Westbrook (son)
Height: 6 feet 3 inches
Weight: 91 kg
Occupation: Basketball player
Russell Westbrook biography
Russell was born on the 12th of 1988 in Long Beach California. He was raised in Hawthorne by his father Russell Westbrook Jr and mother, Shannon Horton. The star has a younger brother by the name Raynard.
He lost his friend Khelcey Barrs III in 2004 due to an enlarged heart. Khelcey and Russell had hoped they would join UCLA and play together, but this dream did not come true.
Age
Russell Westbrook age is 31 years in 2020. His birth sign is Scorpio. He features in famous 12th November birthdays with stars like Erica Costell, Anne Hathaway, Omarion, and Michelle Wozniak.
Body measurements
Russell Westbrook height is 6'3" or 1.91 meters. His weight is 91 Kg. He has a chest size that is 42.5 inches. The arms/biceps are 16 inches or 41 cm, and the waist 32 inches or 81 cm.
Nickname
Russell Westbrook is one of those guys who have a host of nicknames. The star calls himself "The Brodie" which loosely means "the brother". Another nickname for Westbrook is "The Westwolf".
He was nicknamed Westwolf in comparison to being wolf-like because of his ferocity, quickness and killer instincts on the court. There is also another nickname for him and fellow star Paul George. The duo is referred to by fans as "R-PG". R is for Russell and PG for Paul George.
Family
Russell Westbrook is the son of Russell Sr. and Shannon Horton. He has a brother named Raynard, who is also a basketball player just like their dad was. In 2015 he got married to Nina Earl. Russell Westbrook wife happens to have been his sweetheart from college.
Their first child, a son called Noah, was born in May 2017. They also have twin daughters, Jordan and Skye who were born in November 2018.
Career
Westbrook joined Leuzinger High School playing the position of a point guard. At the time, he was only 5 ft 8 in tall. Joining university, he did not start in the first team until his junior year. He received his first college recruiting letter in summer just before his senior year.
In that summer, Westbrook had grown to his adult height of 6 ft 3 in tall. As an older student, he averaged 25.1 points, 8.7 rebounds, 3.1 steals and 2.3 assists. Top college basket platforms did not show interest in him at the time but when Jordan Farmar declared for the NBA draft head coach Ben Howland handed him a scholarship to play for the UCLA Bruins.
In college, Westbrook wore the number 0 jersey. As a freshman, he was a bench player often used as a backup for Darren Collison or sometimes brought in as a defender or energy player. During his second season in college Collison was injured and this meant Westbrook had to start the games.
At the end of that year, he found a place in the All-Pac-10 Third Team and also won the Pac-10 Defensive Player of the Year. He helped UCLA make it to the Final Four in all the seasons he played with the team.
READ ALSO: Sarah Geronimo bio: net worth, age, birthday, awards, songs
In 2008 Westbrook became a professional basketball player signing for Oklahoma City Thunder. By that time the team was known as the Seattle SuperSonics before relocating and changing the name.
In March 2009, he registered his first triple-double with an astonishing 17 points, ten rebounds and ten assists. The year ended with him finishing number four in the NBA Rookie of the Year votes. He was subsequently named to the NBA's NBA All-Rookie First Team.
The second-year at the Oklahoma City Thunder saw him become a regular starter for the team. The star would be a critical member of until the 2018/19 season when Russell Westbrook OKC career came to an end, and he moved to the Houston Rockets.
Current team
He moved to the Houston Rockets in July 2019. Russell Westbrook trade involved All-Star Chris Paul, two protected first-round picks and other draft considerations. At the Houston Rockets, he once again teamed up with former teammate James Harden.
Russell Westbrook and James Harden expressed the joy of having to play together again. Russell Westbrook Rockets debut was on October 24 2019. Although he led the team with 24 points, 16 rebounds, and seven assists playing for just half an hour, the team lost 117-111 to Milwaukee Bucks.
He became only the second player in the history of the Houston Rockets to get at least 20 points, 15 rebounds and five assists in the opening match of the season. He has since settled as a Houston Rockets player and continues to break records with every game he plays.
Awards
The list of Russell Westbrook accolades in his career is endless. He has received many honours on and off the court. His most notable achievements include the following:
2 times All-NBA First Team (2016, 2017)
5 times All-NBA Second Team (2011–2013, 2015, 2018)
NBA All-Rookie First Team (2009)
8 times NBA All-Star (2011–2013, 2015–2018)
2 times NBA All-Star Game MVP (2015, 2016)
NBA assists leader (2018)
NBA Most Valuable Player (2017)
2 times NBA scoring champion (2015, 2017)
Pac-10 Defensive Player of the Year (2008)
Third-team All-Pac-10 (2008)
Stats
In the 2008/9 season, he played 82 matches for Oklahoma City. He started 65 out of those 82 matches. On average, the player played 32.5 minutes per game that season with a .398 field goal percentage and .271 3-point field goal percentage.
In this season, he also achieved a .815 free throw percentage, 4.9 rebounds per game, 5.3 assists per game, 1.3 steals per game, 2 blocks per game, and 15.3 points per game.
In the 2009/10 season, he played a career-high 82 games starting all of them. The stats were also much better than those of the previous season. Fast-forward to the 2018/19 season, he registered 73 matches played for Oklahoma City.
He played 36.0 minutes per game in that season. The field goal percentage this time was .428 with a .290 3-point field goal percentage. He had a career-high 11.1 rebounds per game, and 10.7 assists per game.
In total, from the 2008/9 season to the 2018/19 season, his stats are 821 games played, 804 games started, 34.5 minutes per game, .434 field goal percentage, .308 3-point field goal percentage, .801 free throw percentage, 7.0 rebounds per game, 8.4 assists per game, 1.8 steals per game, .3 blocks per game and 23.5 points per game.
Endorsements
Westbrook's first commercial was with the Jordan Brand. It featured a high school athlete buying any Jordan gear from Champs and transforming to Westbrook thus winning a state championship.
Jordan Brand deal was signed back in October of 2012. In 2017, he renewed the agreement on a 10-year extension making the Russell Westbrook contract the largest total endorsement deal of any athlete working with the Jordan Brand.
Russell Westbrook shoes are a product of this deal. In 2013, he also signed another agreement with Kings and Jaxs Boxer Briefs showing his passion for fashion. In 2015, True Religion named him their Marketing Creative Director. That year he was also the face of PepsiCo's Mountain Dew Kickstart.
Russell Westbrook net worth
Russell Westbrook net worth is $150 million according to Celebrity Net Worth. The star's salary is a staggering $41 million. In his career, he has earned close to $100 million in salary alone. He currently makes an estimated $26 million per year. In 2017 he signed a $206 million contract making it the largest deal in the history of the NBA.
Russell Westbrook has had an outstanding career as an NBA basketball player. The star has won many awards and also earned some good money making him one of the wealthiest NBA players. All the fame and success would not have been possible without hard work and determination. His father helped nurture his talent from a young age, and all the hard work has paid.
READ ALSO: Sharon Cuneta bio: age, net worth, siblings, awards, children