De Lima to counter Duterte on death penalty
Former Chief of the Commission on Human Rights and Presumptive Senator Leila de Lima consistently promises to stands against the plan to reinstate death penalty as warned by presumptive President Rodrigo Duterte.
Davao City Mayor Rodrigo Duterte has earlier promised to bring back the death penalty and to give the police his known shoot-to-kill command in line with his goal to suppress crimes in the country in three (3) to six (6) months once he sits as president.
"Let us observe the new leadership first. Let's see and find out what his domestic and foreign policies. Let's see. I just hope that he would always at all times uphold the Constitution, the rule of law and human rights," De Lima said when asked about her stance under the administration of Duterte.
As Leila de Lima explains her willingness to provide a blanket of support to certain policies planned for by presumptive President Rodrigo Duterte, de Lima promises opposition to maintain her stand against death penalty, citing the Philippines' "weak justice system" to back up her belief on the issue.
She said, "I do believe that that is not the solution. The solution is to fix the justice system. The new executive should start with the strict and faithful enforcement of laws," de Lima told reporters when asked about the issue of death penalty, especially now that Duterte is very open that he is to make ways to bring said penalty back.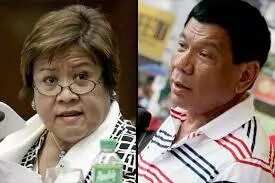 De Lima also said she is to "watch him [Duterte] first".
Earlier reports have emphasized how the Davao City mayor stand against crimes and how he has repeatedly said that his warning of killing for crime suppression are not mere expressions.
"We have a society now where obedience to the law is really a choice, an option only,"  Duterte said.
Throughout the campaign period, the presumptive president has repeatedly promised the Filipinos of change - one of them directed to criminals - and he says, "If you resist, show violent resistance, my order to police (will be) to shoot to kill. Shoot to kill for organized crime. You heard that? Shoot to kill for every organized crime."
RELATED: 
Source: KAMI.com.gh