2PM members profile: Name, age, facts, military
2PM is a South Korean boy-band that is owned and managed by JYP Entertainment. Initially, the band was started by Park Jin-Young, a Korean Musician and comprised of eleven members. However, the group split into two, forming 2AM and 2PM. The current 2PM members include Jun. K, Nichkhun, Taecyeon, Wooyoung, Junho, and Chansung. Their former leader Jaebeom left the group in 2010 and has never returned.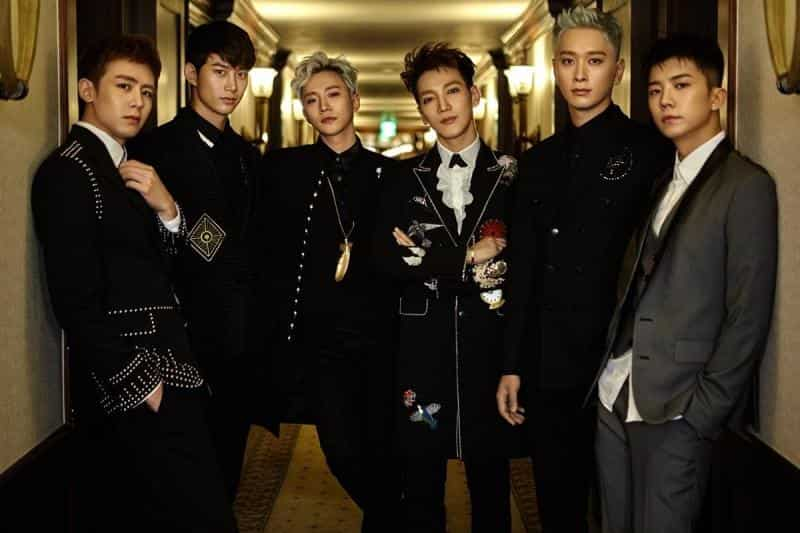 The six-member band debuted with the single hit "10 Points Out of 10 Points." Apart from the exemplary singing talent, they have also entertained their fans with breath-taking acrobatic dance styles. This was the case during the launch of their first song; fans were treated to electrifying song and dance performances.
However, it was not until the release of their single "Again and Again" that they reached the number 1 target. Both "10 points out of 10 points" and "Again and Again" were featured in their album titled 1:59 PM that was released in 2009. From then, they have released various albums, including Grown (2013), Go Crazy (2014), No.5 (2015), and Gentlemen's Game (2016).
2PM members profile
Here is all you need to know about your favorite boy-band, 2PM:
Jun. K
Stage name: Jun. K
Birth name: Kim Min Jun (formerly known as Kim Junsu)
Position: Main vocalist
Birthday: January 15, 1988
Zodiac sign: Capricorn
Height: 180 cm
Weight: 68 kg (149 lbs)
Blood type: A
Religion: Buddhism
Instagram: jun2dakay
Jun.K facts
Jun.K was born in Daegu, South Korea; his family comprises of his mother and younger brother.
His father passed away in 2012.
He chose JYP Entertainment over YG Entertainment - although both accepted him.
He is an award-winning songwriter.
He received over 70 awards in article writing.
He was formerly known by the name stage Junsu.
He is fluent in English, Korean, and conversational Japanese.
His hobbies include songwriting, collecting accessories, fashion, and shoes.
He released his first solo single "Alive" in 2011.
He starred in the musical The Three Musketeers in 2012 as D'Artagnan.
He starred in the musical "Jack the Ripper" in 2013 as Daniel.
He released "Love & Hate," his first Japanese solo album in 2014.
His solo "Love Letter" was the 2nd solo Japanese album. It reached 1st on the Oricon charts.
First 2PM members military recruit on May 8, 201.
Jun.K was discharged from the military on January 2, 2020.
Nickhun
Stage Name: Nichkhun
Birth Name: Nichkhun Buck Horvejkul
Position: Vocalist, rapper, visual
Birthday: June 24, 1988
Zodiac Sign: Cancer
Height: 180 cm (5'11")
Weight: 64 kg (141 lbs)
Blood type: O
Religion: Buddhism
Instagram: @khunsta0624
2PM members Nichkhun facts
Nickhun hails from Rancho Cucamonga, California.
Nickhun's parents are ethnically Chinese, from Bangkok, Thailand.
His family comprises of his mother, father, an older brother (Nichan), two younger sisters – Nichthima (Yanin) and Nachjaree (Chereen)
Nickhun's mother is a Thailand native born to immigrant parents from China.
His family is wealthy and is known as "Thai Prince" in South Korea.
He has dual citizenship: Thailand/USA citizenship.
He went to Dhepkanjana and Tangpiroondham School in Thailand.
He was found in the Korean Music Festival in Los Angeles by a JYP agent.
He can play both the piano and the guitar.
He is fluent in Thai, Mandarin, Korean, English, Japanese, and basic French.
He started dating SNSD's Tiffany in 2014 and broke up with her in 2015.
He was featured in Korean dramas, namely Dream High (2011) and The Producers (2015).
He played in Chinese dramas, namely Looking for Aurora (2014) and One and a Half Summer (2014).
He released his first solo mini-album, ME, in February 2019.
Taecyeon
Stage name: Taecyeon
Birth name: Ok Taec Yeon
Position: Sub-vocalist, main rapper, 2nd visual of the group
Birthday: December 27, 1988
Zodiac sign: Capricorn
Height: 185 cm (6'1″)
Weight: 76 kg (167 lbs)
Blood type: AB
Religion: Christianity
Instagram: @taecyeonokay
2PM members Taecyeon facts
Taecyeon hails from Seoul but relocated to Busan, South Korea.
His family comprises of his father, mother, older sister (Jihyen)
His family moved to Bedford, Massachusetts, USA, when he was ten years old.
He attended Bedford High School. Later joined Dankook University, where he studied.
He and the family lived in the USA for seven years.
He studied at Young Dong High School in Seoul soon after returning to Korea.
He auditioned to be a model for JYP Entertainment in New York.
He is an actor; he was featured in Korean dramas such as "Dream High" (2011), "99 days with the Superstar" (2011), "Cinderella's Sister" (2010), "Let's Fight, Ghost" (2016), "Wonderful Days" (2014), "Who Are You" (2013), "Assembly" (2015).
He released his 1st solo album in January 2017.
On January 2 and the 3rd, he held 'Taecyeon (From 2PM) Premium Concert,' his 1st solo concert. It took place at the Tokyo Dome City Hall in Japan.
He composed the title track "Promise (I'll be)" for 2PM's latest album, "Gentleman's Game."
READ ALSO: Astro members' profile: Instagram, roles, ages, names
Wooyoung
Stage name: Wooyoung
Birth name: Jang Woo Young
Position: Main dancer, lead vocalist
Birthday: April 30, 1989
Zodiac sign: Taurus
Height: 178 cm (5'10")
Weight: 65 kg (143 lbs)
Blood type: B
Religion: Buddhism
Instagram: @0430_live_boy
2PM members Wooyoung facts
Wooyoung was born in Busan, South Korea.
He comes from a family comprising of his mother, father, elder sister.
Won the JYP trainee in an audition with 5,000 other candidates.
In July 2012, he became the first 2PM member to release a single album titled "23, Male, Single."
He made his solo debut in Japan in 2015 after releasing the single "ROSE."
He majored in dance at the Seoul School for Arts.
Made a cameo appearance in 2011 in the KBS Drama Special "Human Casino."
He was assigned as the new face of Recipe Cosmetics in 2014.
He was enlisted for the military on July 9, 2018. Expects to be discharged on February 28, 2020.
Junho
Stage name: Junho
Birth name: Lee Jun Ho
Position: Main vocalist, lead dancer
Birthday: January 25, 1990
Zodiac sign: Aquarius
Height: 178 cm (5'10")
Weight: 67 kg (147 lbs)
Blood type: A
Religion: Christianity
Instagram: le2jh
2PM members Junho facts
Junho was born in Ilsan, Goyang, South Korea.
He has two cats named Johnny and Wollie
His bad tempers almost cost him his chance at JYP Entertainment.
He speaks fluently two languages, Korean and Japanese, and a bit of English.
Cast in the show "Let's Go, Dream Team" Season 2 in 2010.
His first solo mini-album was released in July 2013 and it was dubbed "Kimi no Koe".
"FEEL" topped Oricon's daily album chart immediately after its release.
His third Japanese mini-album, dubbed "SO GOOD", was released in July 2015.
His filmography includes "Cold Eyes" (2013), "Memories of the Sword" (2015), and "Twenty" (2015).
His Korean filmography works are seen in dramas such as "Memory" (2016), "Chief Kim" (2017), "Uncontrollably Fond" (2016, cameo – ep. 4), "Wok of Love" (2018), "Just Between Lovers" (2018).
Junho is an enthusiastic animal rights activist.
He was enlisted on May 30, 2019. His discharge date is March 20, 2021.
Chansung
Stage name: Chansung
Birth name: Hwang Chan Sung
Position: Lead rapper, vocalist, maknae
Birthday: February 11, 1990
Zodiac sign: Aquarius
Height: 184 cm (6'0″)
Weight: 75 kg (165 lbs)
Blood type: B
Religion: Buddhism
2PM members Chansung facts
Chansung was born in Seoul, South Korea.
He attended the Korean Art High School and Howon University.
He is fluent in Korean, intermediate Japanese, and basic English.
He is an actor. Chansung featured in "Unstoppable High Kick", "Brilliant Thieves Royale" (2011), "What's Wrong with Secretary Kim" (2018) and many others.
Chansung enlisted in the military on June 11, 2019; the discharge date is January 5, 2021.
2PM members facts
Apart from individual member profiles and facts, here are a few things about the entire group as a whole.
2PM official accounts
If you are a 2PM group fan, then you should be privy with facts like how many 2PM members can speak English? Or even which ones left. Apart from individual accounts, 2PM has a group account as follows:
Twitter: @follow_2pm
Facebook: 2pm.jype
Instagram: @real_2pmstagram
YouTube: 2PM (on JYP channel)
Pre-debut
Before admission of the group, some members had already gained lots of experience from other companies. One of these is Jun.K who had already appeared in several singing competitions and events. Besides, Ok Taecyeon, Lee Junho, and Chansung had taken part in SuperStar Survival.
Initially, all the members of 2PM were members of One day. In this one group, Jaeborn was the leader following inter-house competitions among them. Later, One Day split into a four-member 2 AM and seven-member 2PM.
2PM members birthdays are always celebrated in rounds. Starting from the ones who came earlier in the year to the ones whose birthdays fall on the last quarter of the year. Noticeably, they are nearly the same age group given the small 2PM members age gap.
Members who left
When you go through the original 2PM members names, you will realize that one of their members, Jaebeom left the group. Before he left, he was the leader of the band. His appearances with the group were limited, as he left shortly after their debut.
Discography
Here are their works since formation:
Korean albums
2009: 01:59 PM
2013: Hands Up Grown
2014: Go, Crazy!
2015: No.5
2016: Gentlemen's Game
Japanese albums
2011: Republic of 2PM
2013: Legend of 2PM
2014: Genesis of 2PM
2015: 2PM of 2PM
2016: Galaxy of 2PM
JYP Nation tours
2009 JYP Tour
2010 JYP Nation Team Play Concert
2011 JYP Nation Concert in Japan
2012 JYP Nation Concert in Seoul
2012 JYP Nation Concert in Japan
2014 JYP Nation ONE MIC in Seoul
2014 JYP Nation ONE MIC in Hong Kong
2014 JYP Nation ONE MIC in Tokyo
2014 JYP Nation ONE MIC in Bangkok
2016 JYP Nation Hologram Concert
2016 JYP Nation Mix&Match Concert
There are six 2PM members in total. The number was seven before the exit of Jaebeom. They perform both Korean and Japanese songs with tours covering these regions, respectively. 2PM members abs is proof of their background; some members are enlisted in the military while others have already been discharged.
READ ALSO: Bigbang members' profile: age, height, military, dating
Source: KAMI.com.gh