TG Guingona accepts defeat; becomes richer
Senator Teofisto "TG" Guingona III accepts his loss in the May 9 National Elections, as he ranks 17th according to the partial and unofficial voting count by the Parish Pastoral Council for Responsible Voting (PPCRV).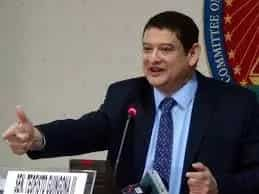 "Our countrymen have spoken. I am sworn to heed and respect their voices," Senator Guingona said, acknowledging that it is the power of the people to choose whom they want to elect.
The senator remains positive despite his defeat.
"While we may not have won our campaign goal for a second term in the Senate, we have won many more advocates for the causes we stand for," Senator Guingona said in a statement.
He even expressed his thanks to "those who campaigned with us, and who helped us reach out to our countrymen and who took a stand with us for our many advocacies."
He added that "your commitment to good governance, to a clean and honest government, to responsive health programs and to lasting peace in our country has been truly inspiring."
From 2004 to 2010, Guingona was Bukidnon's 2nd District Representative. He is also the chairman of the Senate blue ribbon committee.
Despite the loss in the senatorial race, TG Guingona still has a lot to be thankful for after making it to the list of the top 10 wealthiest Senators in 2015, based on their statement of assets, liabilities, and net worth declaration.
The amount of his real assets adjusted upwards slightly from P29,516,738 in 2012 to P29,523,338 in 2013 – after he included in his SALN a residential lot in Cagayan de Oro City purchased in 1994.
2013 SALN of Teofisto Guingona III by Rappler Philippines
After a quick sneak of the SALNs of the 20 sitting senators who were part of both the 15th and 16th Congresses, TG Guingona also topped the list of senators with increased their net worth.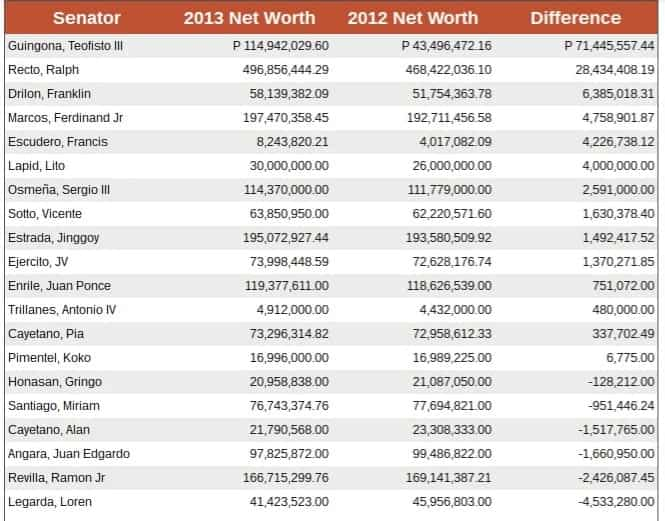 By 2015, the list of the senators' net worth (ranked from highest to lowest) looks like this:
1. Senator Cynthia Villar: Php. 3,500,565,481.00
2. Senator Ralph Recto: Php. 531,670,710.00
3. Senator Ferdinand "Bongbong" Marcos Jr.: Php. 211,077,912.37
4. Senator Jose "Jinggoy" Estrada: Php. 193,162,258.78
5. Senator Ramon "Bong" Revilla Jr.: Php. 173,394,137.77
6. Senator Juan Ponce Enrile: Php. 122,118,754.00
7. Senator Sonny Angara: Php. 118,268,372.00
8. Senator Teofisto Guingona III: Php. 103,886,695.00
9. Senator Sergio Osmena III: Php. 90,525,000.00
10. Senator Grace Poe: Php. 89,118,760.00
RELATED: Senators' 2015 net worth – Villar richest, Escudero poorest
Source: KAMI.com.gh