Sison: The left accepts Duterte's offer of cabinet positions
According to CPP founding chairman Jose Maria Sison, the Left's nominees for the cabinet positions offered by President-elect Rodrigo Duterte aren't necessarily communists, but they have to be patriotic and progressive.
The Communist Party of the Philippines is looking into accepting presumptive president Rodrigo Duterte's offer of cabinet positions.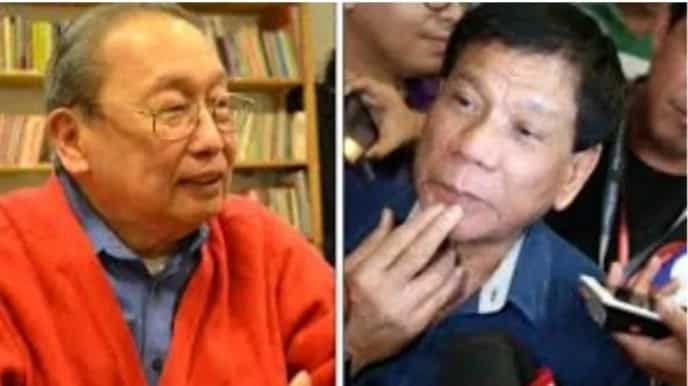 "The NDFP (National Democratic Front of the Philippines) and CPP (Communist Party of the Philippines) welcome the magnanimous offers of President-elect Duterte of Cabinet positions," Jose Maria "Joma" Sison, the founding chairman of the CPP, told reporters.
On Monday, May 16, Duterte announced that he is offering the left four cabinet positions - as head of the four departments namely: the Department of Agrarian Reform (DAR), Department of Environment and Natural Resources (DENR), Department of Social Welfare and Development (DSWD), and the Department of Labor and Employment (DOLE). According to him, these are sectors where he feels that the left is strong in.
Sison has not mentioned specific individuals for nomination but said that "such persons are not necessarily communists, but they have to be patriotic and progressive."
Sison is currently the chief political consultant of the NDFP. He told reporters that the network has a committee that allows them to choose persons "who are people-oriented, competent, honest, and diligent for recommendation to government positions."
NDFP, CPP's political arm, also represents the party and its armed wing, the New People's Army, in the peace talks with the government.
"They will study the offers most seriously and will decide how they can help in the best possible appointments while the peace negotiations are moving forward," Sison added.
Duterte, who was Sison's student at the Lyceum University in the 1960s, is the longtime mayor of Davao City, which is near one of the communists' strongholds in Mindanao.
Part of Duterte's campaign centered on his good ties with both the CPP and the MILF. This allowed many voters to expect that Duterte is the best chance to further the peace process in Mindanao and the entire country.
Sison, now 77, has stayed abroad since 1987 after fleeing to Europe seeking political asylum when past peace talks failed. He has not returned to the country since then. Duterte has recently invited him to come back to resume negotiations of peace.
RELATED: Duterte to Joma Sison: Welcome home
Source: KAMI.com.gh