3 Dead, 116 Others Wounded In Cotabato Rally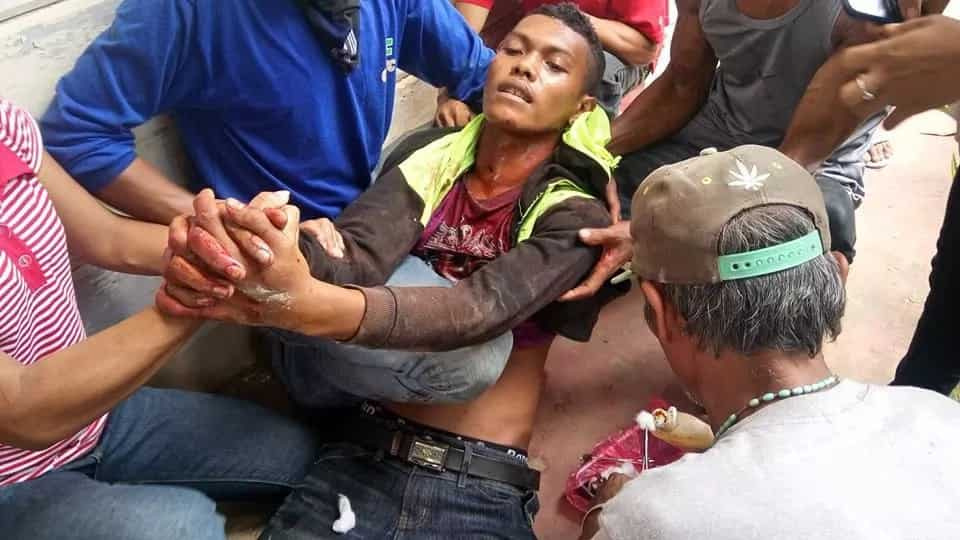 Violence has ensued in Kidapawan City after police fired on farmers and lumad who have barricaded a major road, the Cotabato-Davao highway. At least 3 person was confirmed to have died, while the count of injured people has risen up to 116.
Around 5,000 farmers and Lumad gathered from different provinces in Cotabato City to protest about the drought the has plagued the area. They gathered to form a human barricade to block access within the Cotabato-Davao highway.
They demanded relief from the drought that was in place since last November.
Jerome Succor Aba, spokesman of Moro human rights group Suara Bangsamoro said that the firing began when Mayor Joseph Evangelista arrived in the protest area.
Pedro Arnado, chairman of the Kilusang Magbubukid ng Pilipinas Cotabato chapter, which spearheaded the protest, said Evangelista, the chairman of Kidapawan's Barangay Polblacion and the city chief of police ordered protest leaders to disperse.
"We told them that all we wanted was relief from the drought, especially the rice, and we would leave," he said, "but the chief of police insisted that they would disperse us by force if we did not leve."
"Soon after, firetrucks bombarded us with water cannon and riot police began moving in and striking protesters with their batons. When the protesters resisted, they started shooting at us," he said. "At first, despite the casualties, the farmers stood their ground and wanted to fight back but we ordered a withdrawal to avoid more harm from happening."
At least six of the injuries were gunshot wounds, while others were of rocks that were hurled at the protesters and batons carried by the police. As of now, three of the injured people were are in a critical condition.
Names of  some of the people injured in the violent dispersal:
1. Roger Imuy 48 years old, hit in right arm, from Antipas, North Cotabato
2. Leo Deyong, 28, hit in the knee, from Magpet
3. Darwin Madiao, 18, hit in the right leg.. from Magpet
4. Roland Jampas, 26, wounded in the mouth. from Arakan,
5. Mario Ansabo—47, taga arakan
6. Alce Awi, 35, wounded in the leg.
7. Ejay Salaber, 54, wounded in the head –Cabalantian, Arakan
8. Ricky Maat—23, hit by a stone in the head. Bagumbayan Magpet
9. Rodolfo Tanyo, 61,.from Arakan
10. Sheena Duazo, wounded in the head. Bayan Southern Mindanao spokesperson
Makabayan senatorial candidate Neri Colmenares and Bayan condemned the violence in Kidapawan.
He likened the shootout to the Mendiola and Luisita massacres and condemned the shootings instead of helping out the farmers. He also said that the government addresses a calamity with a bloodier calamity.
Read more here: Drought-affected farmers block Kidapawan City highway to demand relief
photo from Kilab Multimedia
Source: KAMI.com.gh