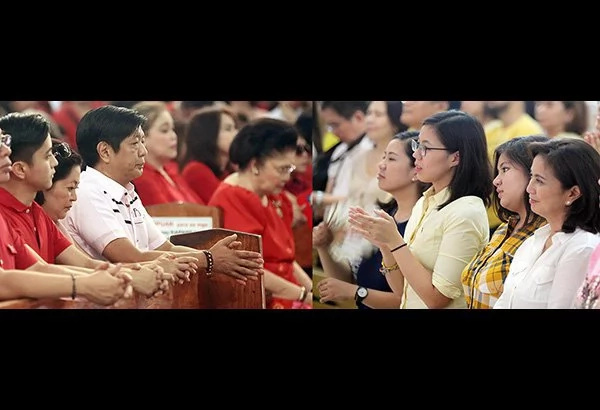 Vice presidential candidates Senator Ferdinand "Bongbong" Marcos and Camarines Sur Representative Leni Robredo seek God and pray as both anticipate the winner of the VP race in a neck-and-neck battle against each other.
Senator Bongbong Marcos attended on Sunday the Eucharistic Mass at the National Shrine of Our Mother of Perpetual Help in Baclaran, Paranaque. Together with him are his family, specifically his wife Louise, his son Sandro, his cousin and senatorial candidate Leyte Representative Martin Romualdez, and his mother and former first lady Ilocos Norte Representative Imelda Marcos, who, reportedly, has been attending masses in the said church.
The mass was held at 12:30 in the afternoon on Sunday and presided by Fr. Ben Sy. It was offered for the truth and integrity of the elections ("katotohanan at integridad ng halalan") which was organized by Marcos supporters.
Most of their supporters took courage for having their photos taken with the Marcoses the moment the family got out of their car.
Even inside the church, their supporters are chanting "Marcos" and "BBM". They are warned to keep silent as to maintain the sacredness of the celebration.
After the communion, their supporters began seizing the opportunity to have more photos with the family. As the mob start to surround them, protection by the security personnel is necessitated so the family could go out of the church and get inside the car.
Meanwhile, Rep. Leni Robredo and her daughters Aika, Tricia, and Jillian attended Holy Mass at 3:00 in the afternoon at the Church of Gesu in Ateneo De Manila University. The mass was presided by Fr. Manoling Francisco, Robredo's political adviser.
His homily circled around the topic language of love ("wika ng pag-ibig") which gives strength and power for Christians to spread the Word of God.
Robredo leads the VP race by 219,000 votes over rival candidate Marcos.
RELATED:
Tadtad's lawyer backs Marcos' cheating claim
Source: Kami.com.ph