Jake Cuenca is now losing weight and growing his hair out in preparation for his new role as a transvestite in his new movie project with filmmaker Quark Henares.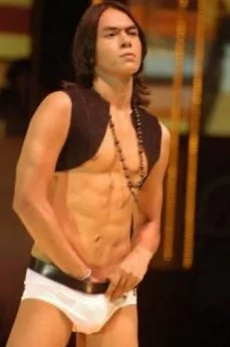 (Photo credit: amrothfaelivrin.blogspot.com)
Jake revealed that the film will cover themes similar to Quentin Tarantino's "Django Unchained", which was released last 2013.
"It's a slasher comedy. It's something new for me. I find it challenging. I have yet to test myself in comedy. I don't limit myself to any role. When this was offered to me, I said I needed to do it. I won't be able to live with myself if I let the opportunity pass."
Other commitments
Recently, Jake flew to New York for a 22-day trip. He signed up for acting workshops, watched Broadway plays and set up test shoots for possible modeling gigs.
"I kept myself busy. I was there to learn how I could still improve myself as an actor. It wasn't a vacation."
Presently, Jake is seen in the drama series FPJ's Ang Probinsyano as Jonas, a man trading illegal drugs. His gang targets popular clubs and victimizes young, naïve customers.
He is part of the show's Ligtas Tips: Paalala Mula sa Probinsyano campaign, which empowers viewers and helps them evade the clutches of crime syndicates by providing tips and scenarios that show how criminals can subtly draw people in.
Sex video scandals
When asked about his reaction to stories on the sex videos of his colleagues on the Internet, he advised people to think twice.
"Be smart. I'm curious why these videos are coming out all at the same time. Is there a group behind all the videos?"
He added that he was confident there would not be any video of him.
"I'm confident that I'm not one of them. Taking a video of myself has never been my fetish. Also, I have never been to any of those websites promoting online sex. TV personalities should be really careful. I read that even the photos you save on iCloud could be made public by hackers."
Supporting the working conditions of actors
Jake is ready to support efforts on improving the working conditions of people employed in film and TV production.
A month ago, the Department of Labor and Employment (DOLE) released a labor advisory urging TV networks to regulate work to only 8 to 12 hours per day.
RELATED: Paolo Valenciano: We're pregnant!
Source: Kami.com.ph