Trillanes denies Duterte's claim Scarborough Shoal is lost; May be basis for impeachment
Senator Antonio Trillanes held a press conference in his office in the senate denying the claims of the presumptive president Rodrigo Duterte that the Philippines has lost the Scarborough Shoal to China.
Trillanes insisted that the Philippines still owns the controversial Scarborough Shoal in the West Philippine Sea citing media transcripts of hearings conducted by the Senate committee on national defense. Trillanes is the chair of the said senate committee.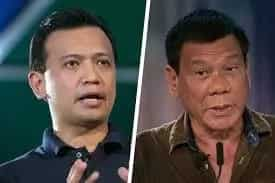 (Photo credit: abs-cbn.com)">
"It's very dangerous for the presumptive President to say that we've lost Scarborough kasi it will weaken our claim unless nagpapauna sya at ituturo lang sa amin. I will not allow that to happen because we have that on record na bago sya nag-assume in office, sa atin pa ang Scarborough, wala pang reclamation dyan," he said.
(It's very dangerous for the presumptive President to say that we've lost Scarborough because it will weaken our claim unless he is preempting and it would be instructed to us. I will not allow that to happen because we have that on record that before he assumed office, Scarborough is ours, there is no reclamation there yet.)
Trillanes was asked why he thinks that Duterte will claim that the Philippines had already lost Scarborough Shoal, Trillanes said, "Baka kasi nagpapauna sya, sa akin ha, sana naman huwag kasi delikado ang President ang magsasabi na nawala na natin yung isla na yan kahit atin pa. Kasi nga ngayon, parang binibigyan nya lisensya yung China to occupy the area tapos ang gagawin nya ibi-blame kami ni President Aquino."
(I think he is pre-empting, I hope he won't do that because as the President, it would be dangerous if he says we already lost our claims over the island although we have not lost it yet. Now, it seems like he is giving China the license to occupy the area then he will blame President Aquino and me.)
"Pag ginawa nya yan (If he does that), that's an impeachable offense. Pag ka umupo sya on June 30 at sabihing nya na (If he assumes office on on June 30 and he says) we have lost Scarborough, that's already a basis for an impeachment complaint."
Trillanes, PNoy to face treason once Duterte sits?
Duterte and his allies filed treason and espionage against President Benigno Aquino III and Sen. Antonio Trillanes IV for undertaking "back-channel talks" with China that "only advanced [the] interest of our Asian neighbor."
The complaint said that "Senator Trillanes met with the Chinese 16 times, and he requested that the meeting [be] secret. In those meetings, Trillanes made mention that the Philippines cannot enforce coastal protection. And that made the Chinese takes an aggressive [stance] and takes over our areas like Scarborough Shoal and Spratly Islands. That alone constitutes treason," former Rep. Ronald Adamat said, citing the notes made by former Philippine Ambassador to China Sonia Brady.
Pres. Aquino is included in the complaint because the meeting will not take place without the consent of the president.
Source: KAMI.com.gh