Gibo arrives in Davao to meet with Duterte
Former Defense Secretary Gilbert "Gibo" Teodoro Jr. arrived in Davao City on Monday, May 16 for a scheduled visit to president-elect Rodrigo Duterte, along with diplomats and potential appointees to top cabinet positions.
Teodoro was seen arriving at the Francisco Bangoy International Airport early Monday morning. His wife Monica Prieto-Teodoro confirmed Teodoro's trip to Rappler.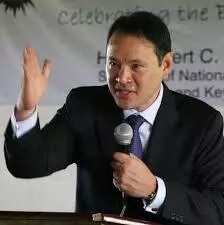 Teodoro, commonly known as Gibo, was a former defense secretary and a presidential candidate in the 2010 elections under LAKAS KAMPI CMD and there has been talks that Duterte has been eyeing for him to take a cabinet position under his administration. The 51-year-old Teodoro is widely thought to be one of Duterte's top picks for Secretary of National Defense. Duterte had been very vocal about his admiration of Teodoro's brilliance even before the election season.
He served as defense chief under the Arroyo government and ran for president in 2010, a race won by his cousin, President Benigno Aquino III.
In August 2015, Teodoro was named board chairman of Sagittarius Mines Incorporated (SMI). The appointment followed the completion of the sale of the majority stake previously held by Glencore International to Filipino-owned Alsons Prime Investment Corporation early this month.
On May 9, election day, Duterte was asked about his pick for Defense Secretary. He mentioned that he was choosing between the "outside worker" and a retired general. Rumor spread that these personalities were Gibo Teodoro and Armed Forces Chief of Staff Hermogenes Esperon Jr. respectively.
After a hiatus from public appearance after the elections, Duterte is set to meet with diplomats from China, Japan, and Israel on May 16.
On the eve of his meeting with the ambassadors, he reportedly met with his top choices for chiefs of the AFP and the PNP, led by Lt. General Ricardo Visaya and police Chief Supt. Ronald dela Rosa respectively.
RELATED: Duterte to end contractualization soon
Source: KAMI.com.gh