Duterte: Sell presidential yacht
President-elect, Rodrigo Duterte said that he will be selling the presidential yacht, Ang Pangulo, once sworn in office.
He told southern city Davao reporters that the proceeds from the sale of the yacht will be allocated to war veterans, improvement of hospital facilities, and salaries for doctors to curb down brain drain and encourage them to pursue their careers in the Philippines.
After President Cory Aquino took over in 1986, she placed the BRP Ang Pangulo for sale but it was never sold. The yacht at that time was appraised and sold for 5.5 million USD. The attempt to sell the yacht was under her efforts to do away with the extravagance of the Marcos Administration, especially because according to reports from the Palace, the government spends P400,000 a month for maintenance costs alone.
The BRP Ang Pangulo was "extensively furnished" during the administration of President Estrada. According to the Palace, the ship was used as a venue for presidential events and a mobile office for the president especially during his trips to Mindanao.
President Arroyo renamed the yacht to Ang Pag-asa after it was repaired and refurbished after catching fire in 2006.
President Benigno Aquino restored the name of presidential yacht to BRP Ang Pangulo. He also ordered that the ship "augment the capabilities of the Philippine Navy."
President-elect Rody Duterte, after a hiatus from appearing on media since election day, has finally made appearance and spoke with the press and is now meeting with foreign envoys in Davao City. It appears that Duterte has started making his moves in running the least lavish administration this country has ever seen.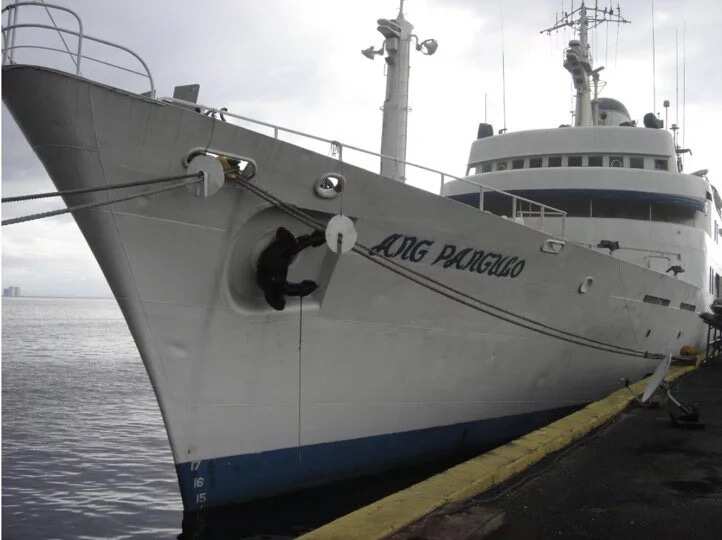 Here are the specifications of the presidential yacht:
Name: Ang Pangulo
Type: Motor Yacht
Model: Custom
Builder: IHI Group
Year: 1959
Flag: Philippines
Dimensions
Length Overall: 77.33 m
Beam: 13 M
Draft (max): 6.40 m
Gross Tonnage: 2200 tons
Accommodations
Guests: 44
Crew: 81
Construction
Hull Configuration: Displacement
Hull Material: Steel
Superstructure: Steel
Engine
Quantity: 2
Manufacturer: Mitsui B&W
Model: DE642/VBF75
Power: 2,500 hp/1,840 kW
Total Power: 5,000 hp/3,680 kW
Propulsion: Twin Screw
Performance and Capabilities
Max Speed: 18.0 kts
Cruising Speed: 15.0 kts
Range: 6,900 nm at 15 kts
Fuel Capacity: 372,000 L/81,828.53 USG
Source: KAMI.com.gh